Recently I piggy-backed another Courtauld trip, this time to Aachen, to try and get a bit of experience with German churches, and a day in Cologne. Cologne is famous for its twelve Romanesque churches, of which is it especially proud from its massive post-war restoration that returned all them to their former glory despite significant damage (we're talking tower and vault collapses here) in  nearly every one. And then of course, there is the Cathedral. Could I do the lot in 24 hours (including pesky sleep?).
I did no research whatsoever on the churches, except where they were (quite important) and when they were open, as I wanted the experience to be full of surprises. What follows is a brief account, light on the dates and analysis of building breaks, to try to distill each church to a one favourite stand-out feature or we'll be here all day. Onward!
______________________________
Arriving in Cologne was quite an unforgettable experience.
Little did I know, searching for internet access so I could have my phone magically point me in the direction of my hotel, that the Dom was right outside of the south exit of the station, a looming critical mass of distilled Gothic through the plate glass facade. This was not a moment to think "oh, hey, there's the Cathedral, now, let me put a fake email address into this network log-in screen…". No, Cologne Cathedral is something of such sublime proportions that it immediately shatters any such worldly concerns such as foreign wi-fi signals. The west facade is nearly entirely nineteenth century, but finished from now almost relic-like "Plan F", which showed the original design. And what in reproduction, can seem like two facades clumsily stacked on top of each other, appears in true experience as the apotheosis of the Gothic system, and quite frankly, initially, utterly bloody terrifying to the point of inducing vertigo. Eventually it beckoned me to enter in. I cried a bit. It's enough to evangelise you that Gothic is not a style. It is the Law.
______________________________
#1 But, alas, most of my time was going to be concerned with Romanesque, which, as a responsible art historian, I should tell you was not a style where people were working out how to do Gothic but a creative force in its own right. The Northern-most church, on the way to my hotel, is St. Kunibert, on the other side of the railway station. As my first of the Romanesque churches it was not a disappointment. It really sets the scale for the monumental churches all over the city – a dominating "westwerk" block with two towers at one end and a raised choir at the other end with a semi-circular apse.


The incredible thing for me is that this church was built entirely in the thirteenth century. Even in England Romanesque was totally old hat by this time. This church was especially badly gutted in the war, but the simple polychrome of red and blue the restoration has instated on the columns, ribs and arches sets off marvellously against the pale grey stone.
______________________________
#2. Also on the first evening I managed to see Groß St. Martin, as this seemed to be open til 7:30pm everyday.


This is another enormous church with a tower with four flanking turrets that dominates the skyline after the Dom (sadly all rebuilt as the crossing caved in from a direct hit). Unlike St. Kunibert the fabric has much more of the patina of time about it, and there's certainly a lot less in the way of altarpieces and statues. But what was most memorable about this church is the reason it's open so late: it is staffed by a Monastic order and has a Mass every day. The nuns' plainchant was captivating and there was a wonderful serenity to the whole thing. As nearly every service I've seen in a building like this, it was not able to approach the scale of the ancient church, and merely taking place in it. However in its modest quality it felt like watching a very distant shadow of the medieval liturgy, like the underdrawing of a faded fresco.
______________________________
#3. The next day I set off south to work my way up through the remaining ten Romanesque churches. Upon seeing St. Georg open I dived inside. A much stumpier building than so far, with a westwerk like Mecca in a dunce's hat.


Quite an interesting church archaeologically for modifications (check out that added vault on the nave elevation…) and changes of plan, but I won't bore you with my tedious pictures of such things. The most memorable thing here is the crucifix in the westwerk, a so-called gabelkreuz, where not just Christ but the cross is twisted into a Y-shaped expressionist agony.
______________________________
#4. So down to St. Severin, the southern-most church, a commanding spire making it easy to find and the only one with a Gothic nave.


This pointy fourteenth-century nave was certainly the most memorable bit, even it was a bit workman-like, but it had some quite unusual Renaissance tombs with alabaster reliefs. Oh, and another fourteenth-century gabelkreuz!
______________________________
#5. St. Panteleon was next, which is important for having really early Romanesque in the mighty westwerk.


However, what made me make an noise of audible delight was the choir screen, documented 1502-14, but in full-on Florid Gothic: a veritable fugue of intersecting nodding ogees and fantastic pinnacles. Oh daddy.
______________________________
#6. Over to St. Maria Lyskirchen, the smallest of the churches, which largely escaped Bomber Harris et al, and so still has its strange Baroque balcony in the nave.


It also means it keeps its utterly extraordinary series of paintings – the earliest the Adoration on the counter-facade, mid-thirteenth century in the main vessel, and later, towards 1300 in the two choir chapels dedicated to St. Nicholas and St. Catherine.
______________________________
#7. Back to the massive Romanesque with St. Maria im Kapitol, here the nave never had its vault rebuilt after the war so has the bare springers. There was some setting up of a light show behind the Renaissance screen, and I wasn't sure whether it was off-limits, so took it as a covert operation. As Alec Clifton-Taylor says, the good thing about Romanesque is how easy it is to hide behind the piers (but "One has to be so particular in Perpendicular").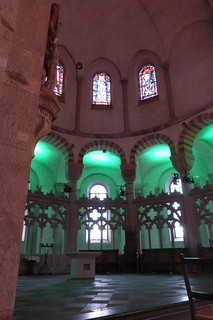 But this church is full of extraordinary things. Romanesque Madonna, prehistoric "bones of St. Mary", the original carved wooden doors, another gabelkreuz… but I am going to choose the late Gothic Hardenrath chapel, consecrated 1466. It has a singing gallery off the south transept leading into a tiny intimate space crowded with art. Sadly the wall paintings were largely detached in the war, but it is still an impressive space. Even more so when you realise the gate is unlocked when you've been taking pictures through it for five minutes.

______________________________
#8. I dive over to St. Aposteln. In practically any other town this would be looking at Cathedral status, but here it's just another Romanesque mammoth with two towers flanking the choir like oriental sentinels.

Not too much inside, they were setting up a concert when I arrived so mainly could only see the westwerk, but a zoom lens and tripod got me the choir and nave. The full set of fourteenth-century apostles set into the modern high altar were by far the stand-out of the furnishings.
#9. Now, St. Cecilia is a different sort of church. It's not much more what you would expect out of a Romanesque parish church, nothing fancy.


However, it is now home to the Schnütgen Museum, and packed full of medieval sculpture. Now, the main museum foyer had a "no photo" sign in so I actually only took pictures sparingly and covertly at first, until I noticed other visitors not getting told off (this how you roll as an art historian – interesting because this fellow Cologne church crusader got slapped down). It's cheating and I should probably just talk about the wall paintings or something that is actually part of the original church, but I was totally absorbed by the altarpiece of St. Ursula that was displayed on the site of the high altar. The goldsmiths work and inlaid enamelling is twelfth century, but the current figures were painted in the late fourteenth century. The best of both worlds, culminating in a vision of the next! (I didn't really take many pictures of the collections and also haven't uploaded them to Flickr as it's a nightmare to tag museum photos)
#10. At this point I went back in the Cathedral. Access had been rather disappointing earlier: although it's open from 6am the whole east end is roped off for much of the early morning for confessions only. So this means you don't get a chance to enjoy it without it being filled with buggies and people with T-shirts with writing on, a shame, really, and a bit baffling. All I could really do in the morning was go to Mass in the Lady Chapel and look at Stephan Lochner's altarpiece from the Town Hall (which ain't so bad).
Even later in the day all the ambulatory chapels are gated off so the extraordinary tombs, like this fourteenth-century bishop lying on a castle, are not easy to see, and you can't use a tripod so have to shoot everything except the stained glass on grainy high ISO anyway. All in all a visit is very restrictive compared to an English Cathedral. Also, unless you want to see a bunch of post-Reformation shiny plate (always a frustrating experience for a medieval art historian: which of the shiny things are old enough for me to care about??), the Treasury is not worth a visit and is badly laid out. All that's really interesting are the original sculptures of the medieval south porch of the facade.
#11. So, we're nearly finished now! St. Andreas is right next to the Cathedral, and is distinguished by its tall Gothic choir, with mouchette wheels in the tracery.


Wall paintings in here, too, but rather suspiciously over-painted. I enjoyed the St Christopher statue attributed to stone carver Tilman van der Burch, whose sculpture was all over Cologne around 1500. Unlike his version in the Cathedral, in which the giant's face is seized by the pain of exhaustion, here he seems to be looking up to check on the Christ child in a quite charming way.
______________________________
#12. St Gereon is really the most extraordinary of the churches, as its thirteenth-century nave is a centrally-planned polygon. Not only this, but it uses Gothic motifs in the elevation.


The architecture really is the most stunning thing about the church, and despite the church being staffed, the high choir is roped off. After initially taking tripod pictures, one of the attendants, looking very concerned, asked me not to, I assume, for health and safety reasons while there's a group in wandering about. He then followed me covertly into the crypt where he caught me crouching down using it unextended and then threw me out. It's a serious job preventing people taking long exposure images in low-light conditions!
______________________________
#13. And finally St. Ursula. A good church to leave til last as it's utterly fascinating. Unusually for the churches, the Gothic choir was open to visitors, with only the extreme east and the sanctuary roped off, partly to allow people to admire the famous cycle of paintings about Ursula and her 11,000 virgins, martyred near Cologne.

The grave of Ursula and her ever-multipying band of Virgins was quite the coup for Cologne, as it means they were never short on relics. Reliquary busts of the ladies are all over the city, here they populate every arch of the triforium gallery. But undoubtedly the most remarkable thing in the church is the 17th-century Goldene Kammer. It has dozens of the reliquary busts, but also, in the classic gruesome Baroque directness, thousands of bones arranged into prayers in the spandrels of the vault. It was also interesting to watch a pair of conservators working on restoring the original colour scheme.
So that was it. Quick look in the Cathedral again and then into the train station where no misadventure befell my trip back to Brussels whatsoever. I would actually recommend anyone else who has a few days in Cologne to take up the Kölnerdreizehnkirchenherausforderung, as it is perfectly manageable in one day, as I had to leave relatively early but also spent around an hour and a half in the Schnütgen. Some of the churches are staffed and you have to avoid the periods where a few (St. Aposteln, St. Gereon, St Ursula, St Kunibert) close around lunchtime, and of course the dreaded Monday when everything interesting for tourists across continental Europe is shut. Many of the churches were open before their advertised times and are simply left open without attendants, and it really is a marvellous thing that they are so accessible. A lot of English towns (like Leicester!) could learn from the effort Cologne has made to bring their churches together as historic and holy monuments, and make the most of an opportunity to see such a variety of architecture and art in one place.
There's a lot of pages on the Twelve Churches if you search Google, but very useful for full list of opening times of the Cologne churches, is this site in German.
Here's the full Flickr set which is probably a bit below my usual standards for comprehensiveness of fittings since, well, there was a lot to take pictures of!